Single this Valentine's Day? Try these sexy tips.
Posted by Akila, 03 Feb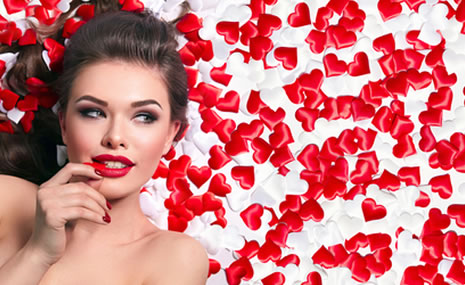 Being single on Valentine's Day isn't a death sentence. However, if you have friends in relationships, it's understandable to be a little anxious. I know it sucks thinking about how your loved ones will celebrate this day with their loved ones. So this Valentine's Day, don't let it bother you. As much as it has been hailed as a day for couples, Valentine's Day is not only for couples or people who have their significant others. Valentine's is about everyone. It's about spreading love and sharing. Just because you don't have a partner does not mean that you cannot enjoy the day. This year, you need to totally own being alone on Valentine's Day.
It can be hard to keep your spirits up when you are bombarded by heart-shaped things everywhere you walk. But, just because you are alone doesn't mean there is anything wrong with you. There are various ways you can survive this day in a sexy way. It's a day of love, right? Well, here are some sexy tips you can apply to cope with this day.
Your perfect partner could be online right now...
What are you looking for?
Sexy tips when single on Valentine's Day
Set a sultry mood
Romcoms and romantic novels can really set a seductive mood for the evening. But, before embarking on binge-watching, you need to spruce your place up. Make the place as sensual as you would if you had someone to spend the evening with.
A cluttered space can make your mood even worse. It will make it even difficult for you to get aroused by that steamy movie or book. So if you are going for a sexy solo Valentine's evening, clean the place up before the day. Make it easy for you to unwind.
Now that the clutter is out of the way, consider some candles, flower petals, and your favorite cocktail or wine to make the mood romantic. And if you are feeling raunchy, put on that erotic movie you have been dying to watch.
Online dating
You know for sure that you won't be the only single person on Valentine's Day. As a result, there is usually a surge in online dating. So expect a lot of singles to be online on this day. Who knows. This could be your last day of being single.
A lot of connections are made online. Now you make it even sexier by flirting with the members that you find online. A little flirtatious fun never hurt anyone. So why not take advantage of this surge?
There are lots of sites online like InterracialDatingCentral. So why not sign up today. Registration is FREE and easy.
If you are already a member, update your profile with a sexy picture, especially your profile photo. Then get talking to as many singles as you can. Who knows… A lot can happen on this day. Love doesn't have to come your way on this particular day.
Dress up in something sexy
If you are single on Valentine's Day, whether you plan to stay in or go out, dress up in something that makes you feel sexy. Put on that makeup, wear some lingerie and heels. Just wear what makes you feel good. Then play your favorite sexy music after dinner and dance the night away. You could decide to do a little stip dancing as you watch your sexy self in the mirror.
Go clubbing and meet other sexy singles
Instead of sitting in the house mopping about how you are alone on Valentines Day, round up other singles and have a Valentines Day for single people. Go and dance the night away. Make sure you dance next to a hot man or woman you meet there. You never know how the evening will go. Lots of people have found love or lust on Valentine's Day. Make sure you flirt with the other singles.
Get a new toy
Being alone on Valentine's Day doesn't mean that you deny yourself some pleasure. Get a nice sex toy to make this occasion. Get an excellent vibrator to switch up your usual solo pleasuring. Get one that has various modes of vibration and intensity levels.
Show yourself love
This day doesn't have to be all about romantic love. Instead, make it about loving yourself. Buy yourself some flowers, chocolate, or an extravagant gift. Even if you are single, you deserve a special treat. Do the things you love doing when you are alone.
Speaking of loving, how about trying a new self-pleasuring experience. Break your masturbation routine and try edging on this holiday. This is where you get yourself near orgasm, then stop. Then continue the stimulation until you can't contain it any further. That intense orgasm is one you will forever remember.
You could also explore other areas of your body instead of going straight to the masturbation bit. Rub and caress those erogenous zones you have been ignoring. You might discover some new favorite spots...
There is so much love you have to give. So this time around, give it to yourself. Celebrate yourself. Make this day special by loving the most important person... YOU!
Responses to "Single this Valentine's Day? Try these sexy tips."
Be the first to leave a comment
You must be logged in to post a comment.