The Art of Being Charming: Online Dating Part I
Posted by Jordan, 28 Feb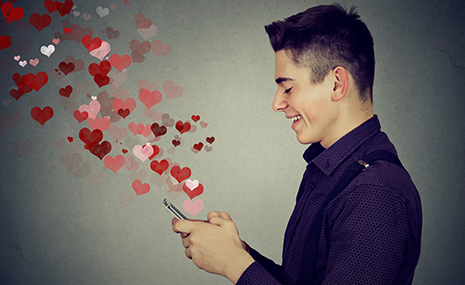 Let's face facts--online dating is all about first impressions. You blow it and you're done, because the sheer volume of online daters makes most participants measure at a gnat-brain attention span. Your potential mate doesn't like what they see, she'll move on to the next guy. Your job is to remain compelling enough to get interest in the next phase...getting to coffee, and then (hopefully) more.
Fellas, do the ladies a favor and bag the half-naked bathroom pics you take with your mobile phone. No matter how defined your six pack, those photos mostly look cheesy and desperate. If you're going to show your pecks and abs--assuming you're that ripped--keep it in context. If you have your shirt off, let it be because you're at the beach surfing or waterskiing, or maybe just finishing a mountain hike.
Your perfect partner could be online right now...
What are you looking for?
Make sure you have a collection of photos in a variety of settings that reflect your interests. They shouldn't all be pictures of you drinking forties with your friends or playing video games. Get some shots with your dog (if you have one), along with some action-shots. You want to convey the message and get her thinking, "This guy is active, and has a life of his own." It also helps to get feedback from other people about your photos, because while you might think that picture of you with the giant moose hat is clever, you might be the ONLY one to think so. Test your photos on HotorNot.com, a website that allows you to submit your photos and get them rated by a harsh-yet-objective and anonymous audience.
In all your shots, try to keep your audience in mind. While guys love to see women in various stages of undress with skin popping out everywhere, women aren't really into seeing all of your junk. Use this rule of thumb: don't pose in anything you couldn't meet her parents in. Dress casual, but don't pose in KMart specials if you can afford not to. If you wear glasses, keep them on--they make you look smart.
Lastly, consider the background in you photos. Are you cheesing in front of a rusty pick up truck? Is your bedroom full of dirty laundry and smelly socks? Oh and one more thing: leave girls out of your photos unless they are wickedly stunning and the both of you are in a platonic pose. Why? Studies show that when men pose next to a beautiful woman, they a perceived as more successful and better looking.
Your Profile
The profile is what often trips people up in online dating. Either they are way too specific or way too vague. Be somewhere in the middle. Don't go into copious detail about how you're looking for your soulmate and she must possess X,Y,Z qualities...do that and you just might miss out on what you REALLY want. Steer clear of making a list for potential women to tick off to see if they measure up. Instead, talk more about yourself and who YOU are. If you're successful and educated, play it up. If fitness is important to you, get specific about what kind of activities (besides the gym) you like to do to stay active.
But your profile needn't be a 1500-word essay. It just needs to be pithy enough to get some attention and open the door. Once the door is cracked, that's when the real work begins.
Stick around for Part II of The "Art" of Being Charming Online when Jordan Harbinger dishes on how to create a virtual connection to get to the first date and beyond.
Jordan Harbinger is a Wall Street lawyer turned Social Dynamics expert and coach. He is the owner and co-founder of The Art of Charm, a dating and relationships coaching company. If you dig this and want to learn more from Jordan and The Art of Charm team, then visit http://www.pickuppodcast.com. You can also interact with Jordan on Facebook or Twitter .
2 responses to "The Art of Being Charming: Online Dating Part I"
Leave a reply
You must be logged in to post a comment.