The Art of Being Charming Online Part II: Making a Move
Posted by Jordan, 21 Mar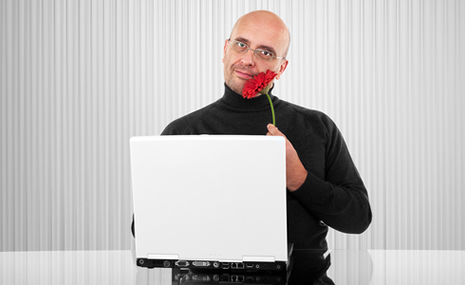 Now that you've gotten your online profile tight - showing yourself in a variety of settings, no cheesy bathroom pictures, and a pithy, to-the-point profile summary–it's time to start making connections with women that spark your interest and eventually want to date. Don't spend too much time in the interim, because the objective to online dating is to make an offline connection. Lingering in chat mode indefinitely gives women a certain type of impression, and none of them are good. If you're chatting and establishing a rapport but aren't suggesting a meeting, chances are the girl you're interested in will become suspicious, or think that you just don't have the gonads to follow through.
Leave the pokes and winks alone, because they mean absolutely nothing and it's obvious that you're just fishing for her to make the first move, which isn't her job. This isn't kindergarten, so stop poking and winking and send her a message already! A message is the first step towards a meet-up. Lingering too long will tell her that you're not serious and probably just wasting her time, so don't bother engaging in conversation if you don't ever have any intention of meeting in real life.
Your perfect partner could be online right now...
What are you looking for?
So...What Should You Say?
Continue to keep your writing simple, brief and pithy. If you don't know what 'pithy' means, then don't worry (I had to look it up, too) and just stick with what's concise while still showcasing your personality.  Bonus points if you can show that you've observed more than just her picture by referencing details she's mentioned in her profile.
Messaging Examples
"That's a cool picture, where was it taken?"
"I see you like horror movies, what's your zombie plan?"
That means, steer clear of boring "vanilla" notes that look like you've cut and pasted a hundred times hoping that someone will eventually answer back. : "Hey what's up", "Hey you're gorgeous", "What's up beautiful?"  is a lazy man's pick-up almost as bad as saying "Is Heaven missing an angel?" or "What's a beautiful girl like you doing in a place like this?" Just…no. Unless you're auditioning for the revival role of "Larry" from Three's Company, cultivate your own material.
Any woman worth her salt—especially the good-looking and accomplished ones—are looking to be engaged, surprised, and charmed. That beautiful ebony-skinned woman with the brilliant smile no doubt gets dozens of "Hi beautiful's" a day.
The key to grabbing her interest is standing out amongst the sea of guys who all want the same thing. This means "shocking" her reality in a very playful way, as the first message will set the tone for the rest of the interaction. Just like any first impression.
Then after you receive a positive response from someone you're interested in, continue the engagement with a prompt reply within a reasonable amount of time. Taking two days to respond after she has returned her interest can give off the message that you're juggling a bunch of girls at once, with is a major turn off.
After a few exchanges, offer to continue the conversation online and on the phone. Continue with the charm and establishing a rapport and then make plans to meet in person. The goal is always to move things along.
Be on the lookout for the next installment when I'll discuss specific tips for success in phone and text conversations.
Jordan Harbinger is a Wall Street lawyer turned Social Dynamics expert and coach.  He is the owner and co-founder of The Art of Charm, a dating and relationships coaching company.  If you dig this and want to learn more from Jordan and The Art of Charm team, then visit http://www.pickuppodcast.com. You can also interact with Jordan on Facebook or Twitter.
1 responses to "The Art of Being Charming Online Part II: Making a Move"
Leave a reply
You must be logged in to post a comment.