The Art of Being Charming: Sure-Fire Ways to Sweep Her Off Her Feet on the First Date
Posted by Jordan, 01 May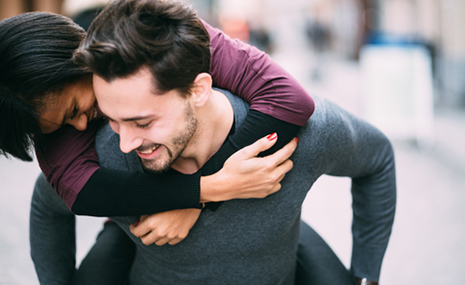 You've made it to the finale to our "charming" series, and everything you've learned--from building your profile, connecting online, captivating her through text messages--has lead up to this: the first date. Now isn't the time to drop the ball. The first date sets the template for what a girl might expect from you for the entirety of the relationship.
Choosing a Venue
Your perfect partner could be online right now...
What are you looking for?
Don't be a slave to lazy thinking. Dump the notion that a date should be dinner and a movie. Sitting across from someone you've just met for an hour while trying to not get salad stuck in your teeth can be a lot of pressure for both of you, and sitting in a dark room for two hours might be enjoyable futher down the road, but in the beginning, a date should be all about non-stop fun and activity. In order to pick the perfect spot, you had to have been doing your research, listening to her subtle cues and tuning in to her interests. Your aim should be to find out what the little girl in her really needs. Does she want to be swept off her feet like a princess in a fairy tale? Is she a sucker for surprises? Has she mentioned in passing some spot she's been meaning to visit? Ninety-percent of a successful first date is directly related to how well you've been information gathering ahead of time.
If you still come up at a loss for first-date ideas, try bowling, going to a museum, cooking a meal together, hiking, wine tasting, or if you're any good, dancing.
Captivate Her By Being Captivated By Her.
That bears repeating: captivate your date buy being captivated by her. That doesn't mean be a love-sick puppy or being needy and approval seeking. Your confidence comes from knowing that you did your homework, and that you know the universal basic needs to women: they want your 100% attention, they want to feel like they are the most captivating woman in the world to you, and they want to know you can be a man without being a macho jerk. In short, your attentiveness and captivation of her will encourage her to reciprocate the favor. That kind of attention is exceedingly flattering.
Create the Memory
Creating a memory is essential to carrying over the feel-good emotions from the first date. The goal is to leave your date in a better mood than she was before, so take the opportunity to be spontaneous, silly and playful. If you're at a bar, tell her you want her to order the more girlie drink on the menu so the two of you can share it. If you're walking and pass by a garden, swipe off a flower and give it to her. The measures need not be grand to have an impact. It's all the little things that make the evening add up to one big success.
Jordan Harbinger is a Wall Street lawyer turned Social Dynamics expert and coach. He is the owner and co-founder of The Art of Charm, a dating and relationships coaching company. If you dig this and want to learn more from Jordan and The Art of Charm team, then visit http://www.pickuppodcast.com. You can also interact with Jordan on Facebook or Twitter .
1 responses to "The Art of Being Charming: Sure-Fire Ways to Sweep Her Off Her Feet on the First Date"
Leave a reply
You must be logged in to post a comment.