The Art of Being Charming: Texting For Success
Posted by Jordan, 13 Apr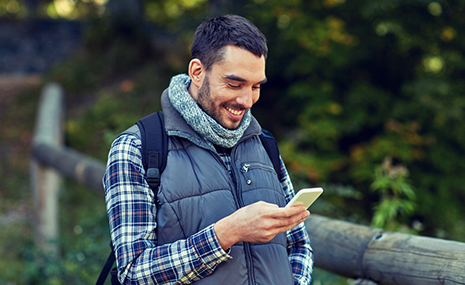 Now that you've made a connection online by perfecting your profile and being wickedly charming--so charming, in fact, that now you have her cell phone number, it's time to bring that mojo to the small screen. Now is not the time to drop the ball and give out cheesy mean-nothing lines like, "How's your day going?" on a text message. That's just boring. Your goal should be to continue to engage and intrigue in order to get to your ultimate goal--the first date. The best way to stay compelling is through having a wicked sense of humor and by catching her off guard.
Wonder how soon you should text? Should you wait the traditional three days so as not to look like a desperate loser? Put the calendar away and send her a text as soon as you get her number. And don't, for all things holy, send a lame line like, "Hey, it's [your name] you just gave me your number." Here's a few suggestions:
Your perfect partner could be online right now...
What are you looking for?
"hello my little midget ninja!" (or any callback humor / nickname you can create)

"what are you up to crazyface?"

"What has a bottom at the top? -[your name]" (the answer to this one is "your legs, silly!")
All of these are ultra cheesy yet interesting enough that she's going to want to text you back. So far, so good.
She might text you back something like "who is this?", but don't lose your cool. Just keep the flirty texts coming, and send her something sassy like…
"Your arch-enemy of course…" (and then, tell her your name, as the guessing-game tends to get annoying after a very short while)
Text Frequency
The amount of texting should match your level of interest, but that doesn't mean sending a text to her every hour on the hour. Text too frequently and she'll think you don't have a life. Don't text enough and she'll think she's just not that important to you and then move on.
-text just enough to banter back and forth without getting into deep conversation or rapport topics.
-the purpose of texting is to handle logistics for a meetup and keep her interested in between those times.
-if the banter is going well, keep it up for a few minutes.  If it's slower, every other day or so is fine.  Again, the point is to arrange a meetup.
To learn more about how to grab (and keep) her attention, get more information http://www.howtotextgirls.com.
Jordan Harbinger is a Wall Street lawyer turned Social Dynamics expert and coach. For 11 years, he hosted The Art of Charm Podcast - regularly in the iTunes top 50 and downloaded over four million times a month. Now Jordan interviews the world's top performers - from legendary musicians to intelligence operatives, iconoclastic writers to visionary change-makers at The Jordan Harbinger Show, consistently holding in the iTunes top 100 after just a few weeks. You can also interact with Jordan on Facebook or Instagram.
Responses to "The Art of Being Charming: Texting For Success"
Be the first to leave a comment
You must be logged in to post a comment.