Dating tips from real women who met their spouses online
Posted by Liam, 16 Jan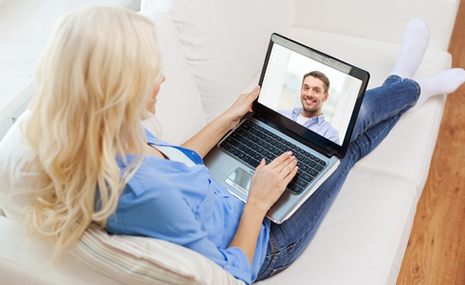 Finding a partner these days isn't as easy as it used to be. Instead of stumbling on a future husband by accident, people are actively making connections online. One has to make a conscious decision to find a date. Much as we know that a significant number of couples meet online, navigating the online dating world can sometimes be frustrating and overwhelming. So we hope that these online dating tips from real women who have successfully found love online will make things easier for you...
1. Look for someone who goes out of their way for you
Your perfect partner could be online right now...
What are you looking for?
Find someone who makes things convenient for you.  35 year old Amy D. from New York says that on their first date, the man she met online suggested to pick her at a place near her apartment. "I was living on the Upper East Side at the time, and he lived all the way down in Hell's Kitchen (which is New York for far). It showed me that he was interested in me and my life—and it felt so different from the standard 'Hey, let's meet up' mentality that you usually find on dating apps", she say. Well, that simple gesture led to 4 1/2 years of marriage.
2. If they are not texting back, they are not worth your time
29 year-old Carra T. from L.A. admits that after her divorce, online dating was a bit horrifying for her. She had married pretty young so the lesson she took from her first marriage was not to "waste time on anyone who didn't reach out often enough." She adds:  "you should go on dates if you're interested in the person you're messaging with, but if they don't message you back in a timely way, just move on. Anyone who really wants to get to know you will make that obvious."
3. Get out of the "type" rut
Some people usually limit them to a certain "type". Well, 40 year old Megan K from Kentucky advises people to keep an open mind. Before meeting her now husband, she was swiping right on all men with the masculine, body builder kind of physique. SO what caught her eye about her husband? "...my husband's smile in his profile picture seemed so genuine and kind and it totally drew me in, so I gave him a chance and I'm so glad I did!"
4. Pay for the site with the niche you are interested in
Some people might think that paying on a site when you can ride on a free membership is bull. Well, 31 year old Meredith G from New York City begs to differ. A male friend once told her that if she really wanted to meet a man who was serious about being in a long term relationship, she had to pay to be on  the dating site. And as soon as she did, she was attached to a hot  6'4" man. who wanted to take her  out for mac and cheese and wine. "It's been five and a half years since that date and I've never logged back in. We got married four months ago!"
5. Approach a guy with a"normal" photo that matches his bio
Instead of focusing on a person's photo, it pays to try and figure out who a person really is.  "My now-husband's photos were very normal and not overdone like plenty others are. Instead of modeling headshots, he had regular pictures of him and his dogs (an apparent sign of trustworthiness) and a basic kitchen selfie. His bio was normal too; he doesn't work out a crazy amount or go adventure hiking every single weekend. He eats pizza and drinks whiskey. I was sold!" —Lauren N., 31, Long Beach, California
6. Don't let cultural differences be a deal breaker
"After four years of dating, three years of marriage and now with a baby on the way, I can say I'm glad I took a chance with online dating and with someone very different from myself", says 36 year old Dia M. from New Jersey. When she started dating online, she went into it with an attitude of being open to other people's cultural differences. She is from Manila in the Philippines and her husband is from a big Italian family. So their cultural differences were significant.  "But staying open to what made us different and teaching each other about our respective traditions and customs actually made us much closer than I anticipated."
7. Have a list what you're looking for in a relationship
What are you looking for? Always have an answer. That's what 29 year old Alex P. of New Hampshire advises. When her now husband asked her after chatting online for her while, seeing as he seemed like an honest and straight-forward guy, she told him that she was looking for someone serious about the future. "Turned out, that was the answer he was looking for! So don't be afraid to be honest and weed out the guys who are not serious—if that's what you want." And they got engaged after nine months got married nine months later and they have been married for a little over a year.
8. Your core values need to be clear from the word 'go'
Seeing as her faith was important, 28 year old Alexandra V from California was a bit reluctant to try online dating because she had no clue about how she was going to filter out men who didn't share that core value. But she did meet a man two weeks in who shared similar values about their faith being a huge part of their lives. "The advice I would give my fellow online daters is to make sure you are clear and honest about your big deal breakers, and to never sacrifice your core values and beliefs for anyone."
9. Save the fascinating conversation for real-life dates
If you are looking for success when meeting someone (who you clicked with online) offline, then do it as soon as possible, says 27 year old New Yorker, Megan G. Chat a little just feel safe and interested enough to meet them then plan a date and know each other in person sooner.  "A few times I spent weeks messaging or texting with someone I hadn't met, and then by the time we did meet up, it felt like we had done all the getting-to-know-you questions online, and it inevitably fell flat...  People can be so one-dimensional on apps. Giving someone the benefit of seeing the full picture in person is the best way to set yourself up for success."
10. Take a breather
We always advice people to be patient when dating online. We also advice them to keep trying. But sometimes, taking breaks from time to time can be refreshing. So whenever you feel you need one, just take it. "I felt like I looked under every rock to find my husband and it was exhausting", says 43 year old Jess A. from Baltimore. "I had to step away for a week or so every now and then. The repetitiveness of all those first dates that were sometimes weird, uncomfortable or straight-up bad left me feeling jaded. I left quite a few bad dates! But I didn't leave the date I went on with my future partner—we've been married a year now—because I gave myself time to regroup after the bad to appreciate the good."
5 responses to "Dating tips from real women who met their spouses online"
Leave a reply
You must be logged in to post a comment.