"I wait until I meet him again" - Iman says she will never get married again after David Bowie's death
Posted by Akila, 19 Nov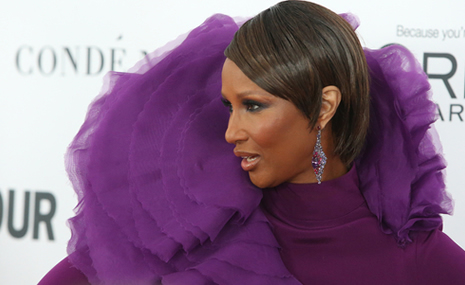 Photo credit: a katz / Shutterstock.com
It's so rare to find a love that lasts – especially in Hollywood – so it's really refreshing when you hear that a celeb has pledged to never remarry after their spouse has passed away.
Your perfect partner could be online right now...
What are you looking for?
And that's exactly what 66-year-old retired model Iman said, as she revealed that she will never get married again following her late husband David Bowie's death. The pair were married for 24 years before he lost his battle with liver cancer in January 2016.
The entrepreneur revealed that, when asked by their 21-year-old daughter Lexi Jones if she plans to remarry, she gave an immediate answer of "no", saying that their "epic romance" will live on, forever. Please pass us the tissues…
"People say to me when they talk, 'Oh I loved your late husband,' and I said, 'He's not my late husband, he's my husband,' so that's how I feel about it," Iman told Hoda Kotb on The Today Show.
"This was truly the love of my life, and I just wait until I meet him again."
The model said that it took her four whole years to come to terms with David Bowie's death, and revealed that she spent most of those four years helping their daughter process her own grief rather than deal with her own…
"I had a daughter who was a teenager when her father passed away, so I was really more concentrated in helping her go through her grief," Iman said.
"But I thought, oh yes, I did go through my grief, but I actually did not."
She then went on to say that she was "forced" to process her grief properly last year when she visited her house estate for the first time since the Space Oddity singer had passed away…
"Last year I went to my house estate, this beautiful property that I haven't spent time there since my husband passed away, and there I was stuck for the year and I was forced to deal with it," she confessed.
"All of a sudden grief knocked on the door and became a companion. And I went through all of it, and now it is the joy that I remember."
Iman is now releasing her first fragrance called 'Love Memoir' as a tribute to the music legend, which she hopes will symbolize the "eternal love" they shared.
"He was visibly, really with us, and that is why I really feel that he's still with us," she said about the fragrance.
"He isn't in plain sight, but he's right there with us. I smell him and we see him every day on the property."
And we think the new fragrance will be another way to help Iman and their daughter remember the Rebel Rebel singer, in particular the "joyful years" they shared together…
"I don't think it will ever go away," Iman concluded, in relation to the grief.
"But the acceptance of it, and the remembrance of the joy, rather than saying every memory that, 'Oh, I wish he was here, I wish we could experience this together.' Now I remember the 26 joyful years I had with my husband."
Hoda Kotb was moved to tears during Iman's interview, and we know she wasn't the only one. David Bowie and Iman were and always will be the epitome of couple goals!
1 responses to ""I wait until I meet him again" - Iman says she will never get married again after David Bowie's death "
Leave a reply
You must be logged in to post a comment.