Kamala Harris' election will makes Americans reflect on racial identity
Posted by Liam, 02 Dec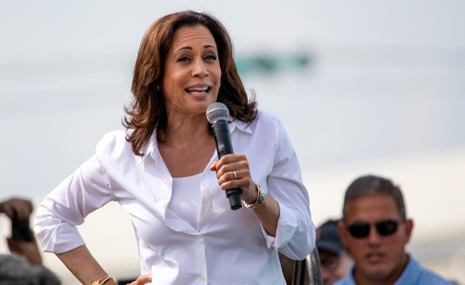 Photo credit: Juli Hansen / Shutterstock.com
Looking at the politics of the US, the election of Kamala Harris makes her just but the second multiracial person to hold that office. We definitely can't ignore the fact that she is also the first woman to take office as vice president.
Your perfect partner could be online right now...
What are you looking for?
Already little mixed race girls have begun noticing that she 'looks' like them as we saw in the case of 4-year-old JoLee Parcell who noticed that Harris looks like her – mixed like her.
For Harris to hold that office is a cultural moment for everyone to examine "different practices and structures of assigning race… and identity", as chair of UCLA's department of Asian American Studies, Natalie c puts it.
Harris' father is a Jamaican immigrant and the mom, an Indian immigrant. Whether we like to acknowledge it or not, such a demographic of American's have been yearning for and needed this fulsome representation in the politics of the U.S.
Masuoka said
"In terms of long-term impact, I hope this opens opportunities for women leaders… seeing the power of voters of color… Voters of color are core supporters of the Democratic party and Harris's position as vice president shows how critical it is that they be represented in party leadership. It will be interesting to what extent her diverse background can be seen in the different efforts she chooses to engage in as vice president."
We can't deny the fact that there is a rise in Americans who self-identify as mixed race or multiracial. In 2000 when people were allowed to select more than one race during the census, more than 7 million of Americans did so.
In Masuoka book, "Multiracial Identity and Racial Politics in the United States", there is culture of American's thinking about race as a product of identity – "it is about how you think of yourself, rather than how others classify you." Let's take a look at former president Barrack Obama.
Much as he acknowledged his interracial parents, he chose to identify as a Black man – not mixed race. He came into terms early that much as he had a white mother, he will always be seen as a Black man when hailing a cab.
Harris also self-identifies as a Black woman. She also speaks highly about her South Asian heritage and how it has influenced her. That said though, Harris' mother knew that the larger society was going to treat her daughter as a Black.
Interracial intimacy and racial mixing has changed the way we analyze and understand matters of race. Unfortunately, even as our culture changes to embrace multiculturalism, the privileges associated with race and whiteness in particular seem not to change at all.
One thing for sure is that Harris role will encourage broader considerations of race by the people of America and those in office. We hope that her multiculturalism and that of other U.S. citizens will spark a dialogue that will change our culture be inclusive as opposed to still remaining one that has prioritized whiteness for over 200 years and still persistently leans towards that same old culture.
10 responses to "Kamala Harris' election will makes Americans reflect on racial identity"
Leave a reply
You must be logged in to post a comment.