Things to do in NYC on Valentine's Day 2022
Posted by Juan, 10 Jan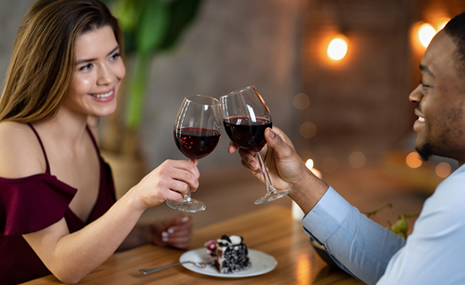 Whenever we think of Valentine's Day, the first thing that usually comes to mind besides red flowers is dinner at a romantic restaurant. But did you know that there are lots of things to do in NYC for valentine's day besides that dinner date?
5 things to do in NYC on Valentine's Day 2022
Your perfect partner could be online right now...
What are you looking for?
The 5 ideas outlined here will leave your bae feeling extra special. Read on and consider them this year's most desired Valentine's Day events in NYC for 2022.
Get your freak on at the Museum of Sex
Marvin Gaye's "Let's get in on" is what is going on my mind right now. Well, you and your partner can unleash your freaky side by visiting MoSex which exhibits sophisticated erotic and eccentric art and artifacts. They also have a bounce house that will shake off any jitters you might have for the night of loving. The museum also has Super Funland, an erotic carnival that is a must-visit. Why? They have a 4-D immersive "Tunnel of Love" ride, a kissing booth as well as a kinky fortune-telling machine. For the final stop as you rush home for some night of loving, head on to the gift shop and grab yourself some erotic literature, sex toys, and aphrodisiac elixirs to spice up your romantic evening.
Valentine's day brunch or dinner cruise
It's all about romance. If you want to give your loved one an intimate experience then you should consider one of the most romantic things to do in NYC this valentine's, what better way to show your romantic side by surprising that special someone with a romantic brunch or dinner on this Valentine's Day NYC Cruise.
At the Valentine's Brunch Cruise, you will get a delicious 4-course brunch as you sip on bottomless mimosas while enjoying some lovey-dovey DJ music and desserts. You will get a private table where you can enjoy some quality time together. There is a Sky Deck where both of you can enjoy your brunch. To make things even more romantic is the panoramic NYC skyline view where you and your loved one can take beautiful photos with the Statue of Liberty as your background.
If brunch isn't romantic enough for you, then consider the Valentine Romantic Dinner Cruise. What can describe 'romantic' better than a yacht dinner on Valentine's Day filled with lovey-dovey music and decorations? This Valentine's Dinner Cruise will make your partner feel so special as you dine on the water! Devour a four-course romantic dinner that is served with complimentary sparkling wine and sweets. Later enjoy the beautiful NYC night views. These Valentine's Day cruises are surely the best ideas ever if you want the feel of escaping the city!
Treat yourselves to a Spa date
One of the coziest and romantic things to do on Valentine's Day in NYC for 2022 is to treat yourself and your partner to a detox at William Vale. The pampering you will get here is amazing. What will top your Spa date is the Hotel's 11th floor that has the perfect view of the NYC skyline. If you have never heard of a sauna blanket, then this is your time to enjoy it. They use FAR infrared technology that will give your body deep, penetrating heat that warms you from the inside as you sweat on the outside. The sauna blanket relieves stress, strengthens the immune system, and also leaves you and your partner's skins glowing - the glow that is needed to admire each other on this special day.
Take a tram to Roosevelt Island
Getting your hearts racing is also romantic and that three-minute ride in the boxy red tram which glides above the East River to Roosevelt Island will get your blood pumping that's for sure. While up there, feast your eyes on 360-degree views of the city. At Roosevelt Island, hold hands as you walk on the tree-lined pathway and enjoy the magnificent views of the Manhattan skyline. To make it even more romantic, catch it at sunset.
Moonstruck viewing at Parklife's Outdoor Cinema
One of the places to go for valentines day in nyc, where you can enjoy a classic romantic 1987 movie and a meal on Valentine's day in NYC is Parklife's Outdoor Cinema. With romance in the air, you and your beau can enjoy a meal and cocktails under the open skies as Moonlight, Valentine's classic plays on the big screen. Make sure you make your reservations early as there is usually a limited number of spots.
It's NYC. Even if you don't go with the suggested ideas, there is still a lot more than you can do to make this year's Valentine's Day in NYC the best yet! So put your best foot forward and do something worthwhile for love.
Responses to "Things to do in NYC on Valentine's Day 2022"
Be the first to leave a comment
You must be logged in to post a comment.