This is how sneaky and freaky people have become during coronavirus isolation
Posted by Akila, 05 May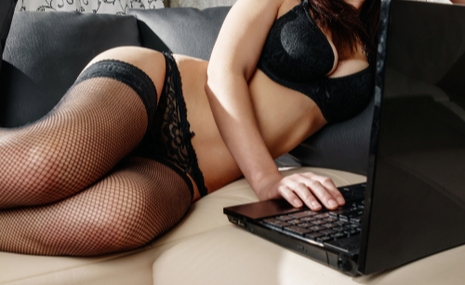 Have you been going to extremes to satisfy your cravings for intimacy during COVID - 19 isolation? Well, it seems like most Americans in relationships have a sneaky bit in them.
Apparently, since the declaration of the Coronavirus pandemic, 42% of Americans in relationships have downloaded a dating app. This is according to a study conducted on 1000 people who are in relationships that had to be separated from their partners during self-quarantine.
Your perfect partner could be online right now...
What are you looking for?
Oh! And shockingly, 52% of those with a partner are still very active on dating sites.
Now dating apps are not the only way people are seeking for connections. There is the case of the ex with 37% of single men and women attempting to reconnect with an ex through social media, WhatsApp, and Phonecall.
Here is where it gets sneaky! 40% of those in relationships were more inclined to use Instagram to sneakily send an ex a direct message.
The Ex activation
According to a survey by OnePoll, 50% of the singles who reached out to an ex claimed to have reignited the flame. 54% of those in relationships, who are currently talking to an ex are feeling some connection and hoping to rekindle the relationship. This not-so-new connection "has them catching feelings again".
Two-thirds of those who are trying to satisfy cravings of intimacy have confessed to feeling extremely lonely during the Coronavirus isolation.
Sixty-seven disclosed that social distancing has heightened their cravings for physical intimacy. Apparently, people are willing to lower their standards for romance with six out of ten willing to talk to someone who is not their usual type during these lonely isolation times.
Now that we are not having dates in person or hooking up at bars, technology is now the go-to place for romance. 42% of the singles in the study group are on a dating app, with 41% having signed up on online dating sites.
LELO's Global Marketing Director Luka Matutinovi said:
"It's only natural people are missing the intimacy they had prior to the pandemic. All the things we took for granted are now conspicuously missing from our lives. The effect this has had on our society is most prominently visible in the new ways we seek out safe interaction and even in the 'lowering' of our standards in dating."
Get your freak on! Let your fingers, hands, toys, whatever do the walking...
Apparently there is an increase in sex toys sales… like 185% compared to last year during the same period. I mean, what do we expect with so much 'alone' time? How about those who used to 'get some' regularly but now can't either because they are separated from their current partners or can't physically have their regular hookups?
Clearly, everyone now has to take control of their own pleasure! We are forced to learn self-loving ;-).
So will this affect the future of relationships? Here is what Matutinovic thinks:
"There will be lasting consequences to this crazy period in our lives, but when it comes to sex and pleasure, hopefully, they will be good ones. With so many of us turning inwards and exploring our own bodies and sexual needs, we might end up being more comfortable with ourselves, our physical and mental needs.

Who knows, perhaps the real dialogue about sexual wellbeing and the importance of self-acceptance when it comes to sex and pleasure finally finds its way into the mainstream."
Another plus for social distancing?
8 responses to "This is how sneaky and freaky people have become during coronavirus isolation"
Leave a reply
You must be logged in to post a comment.