Here is how to approach a new online relationship before Valentine's Day
Posted by Ando, 09 Feb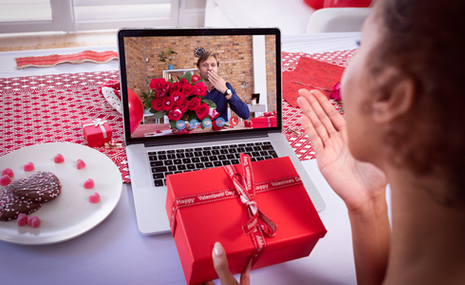 Valentine's Day is first approaching. There have been a lot of online activities since the beginning of the year. So if you are one of the lucky ones, you are probably in the early stages of your online relationship. That said, you are definitely trying to figure out how to navigate this holiday of love with your newly met crush. If you just met this year, you are definitely in your early stages.
How you approach Valentine's Day with a new relationship will depend on how long the two of you have been together. Well, let's guide you on how to go about it.
Your perfect partner could be online right now...
What are you looking for?
Valentine's Day in a new online dating relationship
Met in the past few weeks?
If you just met, don't let the pressure of the day make you rush into meeting in person. Instead, just let the relationship follow a natural course. Give each other time to have a conversation and get to know each other more, especially if this is the first relationship started online.
One of the things that we capitalize on is making sure that you are dating in a safe environment. So before you let yourself be easy prey, get the conversation going and make sure that the stories you are given are consistent. For example, you could make a video call to ensure their pictures are really theirs.
Like I said earlier, don't give in to the pressure of the day. Don't let anyone take advantage of your vulnerability relationship-wise. Before you decide to meet in person, do your due diligence. Don't the fear of being single on Valentine's day cloud your judgment.
One of the long distance relationship tips when meeting online for the first time is that the two of you can celebrate this day casually by just wishing them well on Valentine's Day and getting to know each other better. So make it a day to get to know each other better. Send them an e-card. However, if you need to meet them in person, do it at a public place like a restaurant.
First or second in-person date?
The thing is, the date doesn't have to happen on Valentine's Day. We understand the pressure you might be feeling to take your online relationship to the next level. Well, it all depends on how long you have been talking. If you have been planning your date for a while, I am sure you already have a reservation made. But, on the other hand, if it's last minute, you could arrange to meet after the pressure of Valentine's Day has subsided.
Treat it like any first date if you meet on Valentine's Day. Don't be pressured to do romantic things you usually wouldn't do if the date were any other day.
Gifts aren't a must at this point. The pressure to reciprocate is unnecessary. You will agree with me that it's probably too early for Valentine's gift-giving. That said, though, if you usually carry flowers on first dates, you could do that.
Be cautious. Remember to look out for inconsistencies and loopholes in your date's story. Ensure that you are getting into a relationship with an honest person.
Been dating for a few months now?
If you have been dating for, say, 2 to 6 months, I am sure you already have plans for the day. Before you start assuming that this person will automatically be your Valentine, ask them how they feel about spending the holiday together.
Still, there is no pressure. So if one of you hates the stress associated with the day, schedule it on a different day. If both ofo you are into the traditional way of spending the day, a romantic getaway or dinner at home can be a great way to continue bonding. You could also check out these alternative Valentine's dates. Whatever you decide, meet each other in the middle.
Give each other simple gifts. Flowers, candy, a mixtape, or a lovely book will do fine. Safe the diamond necklaces for later.
The thing with the above online relationship tips is that they emphasize taking Valentine's Day easy. Don't be pressured into anything. Don't give in to societal expectations. Just do what works best for both of you.
Responses to "Here is how to approach a new online relationship before Valentine's Day"
Be the first to leave a comment
You must be logged in to post a comment.