Her Type, and Then Some
Posted by Leticia, 10 Sep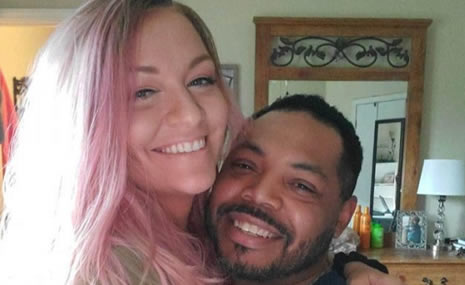 How did "Liv-Hope" and "JLemon" meet on our site? "I'd had no luck finding anyone in my small town," says Oliva (Liv-Hope) to explain why she joined. Joshua signed up for similar reasons, saying it was "hard to meet people. I travel for work, and I work a lot!"
Even so, Olivia didn't have high expectations for her membership. "I was really just looking for someone to talk to, and pass the time," she admits now. Joshua nods. "I was skeptical [of online dating]."
Your perfect partner could be online right now...
What are you looking for?
Olivia did not find love online for several years. "I was on and off [the site] for about four years," she tells us. Just "a few weeks" after Joshua posted his profile, he heard from Olivia. Perhaps by that point she was ready to be more proactive in her search…
"I sent him a Flirt," Olivia says. "Joshua replied and ended up leaving the site, but he left his phone number. I texted him!"
We asked Olivia what stood out about Joshua, to the point that she would pursue him. "He seemed very down to earth," says Olivia of his profile. "I liked that he talked about his family, and I saw that he was a Christian also. Also loved his smile and thought he was so handsome and cute [in his profile photos]!"
It sounds like Joshua was just happy to hear from a woman instead of having to do all the legwork himself. Olivia's profile wasn't all that personal. "I thought it was pretty much like any other profile," says Joshua. "Nothing really stood out."
Once they were communicating, however, the chemistry was crackin'. "We talked for two months, all day and half the night," declares Olivia. "We FaceTimed. After talking so much I couldn't wait to meet him!"
Joshua was ready to do whatever it took to meet his lady love in the flesh. "We'd had a lot of phone conversations, and it was time," he says. "We met in West Virginia, had dinner and talked."
Olivia elaborates on their first meeting, which required both singles to log serious miles on the Interstate. "He was in Ohio, working, and I was in Virginia," she recalls. "We both drove about three and a half hours to meet in West Virginia."
Olivia remembers Joshua having walls up, in their first minutes together. "He was a little shy at first, and I was nervous! I thought maybe he didn't like me, but we both warmed up to each other soon."
To hear Joshua tell it, however, there was no lack of interest on his part. "My first thought was that she was definitely my type of woman," he tells us. "She was down to earth and goofy. When she pulled into the wrong parking lot she was smiling ear to ear, not paying attention to where she was driving because she was looking at me. I thought that was so cute!"
We asked what surprises were in store for them on Date No. 1. "I didn't expect him to be shy!" laughs Olivia. Joshua says he was most surprised by "how happy I was, and how she made me feel."
Exiting their first meeting, both singles were certain they'd do this again. "I had no idea how sweet and humble he was," Olivia marvels. "He's the exact type I always dreamed of but never found in a man before." She also cites "his great sense of humor" as something Joshua's profile didn't clue her in on.
Joshua admires a lot about Olivia. "First of all, how loving and caring she is, not just for me but everyone she comes across," he notes. "No matter what someone does, she still wants to be nice to them. I didn't know anyone possessed that many great qualities, so I wasn't looking for all that in one person. Night and day from my type in the past."
You can probably guess what comes to mind for this couple when asked what their biggest obstacle was. "Distance!" exclaims Olivia. Joshua nods emphatically. "Really just distance, everything else was easy."
Olivia will never forget the moment she realized this cat was a keeper. "We were on the phone one day," she informs us, "and when we hung up after a long conversation I just knew in my heart this was the man I'd always prayed for! And I immediately got on my knees and thanked God."
For Joshua, he remembers his moment of truth being more physical. "I was in West Virginia with her in my arms," he says. That's when Joshua first thought their relationship could be special.
With a love like this, wedding proposals go with the territory. Theirs, however, was pretty unconventional… "We were driving down the road in his truck!" laughs Olivia. Hopefully Joshua didn't take his eyes off the road for very long.
The love she shares with Joshua has been transformative for Olivia. "I am so much happier," she observes. "I look forward to the future, and I went from a single mother to being part of a complete family." Joshua says, "It's definitely changed my life, bigtime, opened my eyes, and taught me a lot about my past and future. A big change... a good change!"
Olivia wants our members to learn from her experience. "The first message may not seem like anything special, or some clever line, but if you keep going back to their profile, give it some time." There was something about Joshua's that she couldn't resist…
"Always keep an open mind," Joshua advises our members. "Trust God. He is right on time and doesn't make mistakes. I wasn't looking for a long-distance relationship, but here we are, and I've never been happier."
Finding love has a funny way of doing that to a person!
6 responses to "Her Type, and Then Some"
Leave a reply
You must be logged in to post a comment.