She Liked Him, and He Felt Likewise
Posted by Leticia, 30 Sep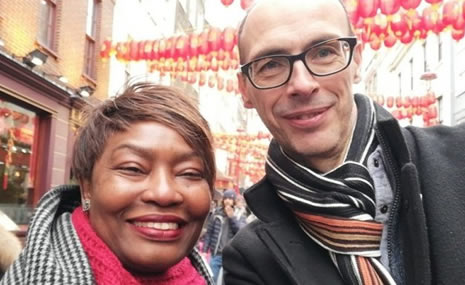 Eucharia posted a profile on our site because she was "looking for someone special." She thought online dating could be the solution to her dating woes, but it hadn't worked all that well up to this point. "I was a bit skeptical, since I had little success on other sites," she confides. "Yours was the most successful!"
"Likewise," says Richard, and you should get used to reading that because he says it a lot. "I'd tried other ways of dating, e.g. speed dating [without results]."
Find your soulmate on TemptAsian










Operating with the username "Eukay," Eucharia's profile was up about a year before she crossed paths with Richard. In his case he'd used the handle "AreWeLovers" for "about one and a half years," Richard tells us.
We asked the happy couple who reached out to who first. "Me, Eukay," answers Eucharia. "I noticed he had viewed me several times without doing anything, so I sent him a message remarking on that and told him not to be afraid to say anything. He then sent me a message and, after a few exchanges, we agreed to a short meet for tea/coffee. We ended up chatting nonstop for about five hours!"
Richard's profile strongly suggested that these two were a match, which naturally intrigued Eucharia. "He had most of the qualities I was looking for," she explains. Richard says "likewise" but admits that he thought Eucharia was out of his league, which is why he didn't contact her in the first place.
In no time these two were making plans to meet on the other side of their screens. "We got on well straight away, from the messages we exchanged," Eucharia points out. "And therefore we wanted to make sure this was the case when we met [in person]."
"Likewise," says Richard.
Where did their first date take place? "We met in a wine bar and just talked nonstop," Eucharia laughs. "He is much slimmer than I expected, but he was true to his pictures, friendly, and down to earth."
"She was very friendly, charming and stylish," remembers Richard. "She is much more down to earth than I feared, and that was the reason I hesitated to make the first move on the site."
What surprised Eucharia the most about their date was "just the way we get on so well, and talk so easily." Richard? "Likewise."
Eucharia says she walked out of their first meeting certain they would be seeing each other again, and hopefully soon. "I was very sure," she says. "We discussed future plans – even marriage!"
She says that meeting Richard and beginning this promising relationship has been very beneficial to her. "It has enhanced and completed my life," declares Eucharia.
"Likewise," says Richard.
"Just know what you want," Eucharia counsels the singles on our site. To the ladies in particular she says, "Don't be afraid to make the first move!"
It worked for her. "Good luck!" says Richard.
Likewise, Richard!
2 responses to "She Liked Him, and He Felt Likewise"
Leave a reply
You must be logged in to post a comment.