The Vibes Were on Fleek
Posted by Leticia, 11 Jun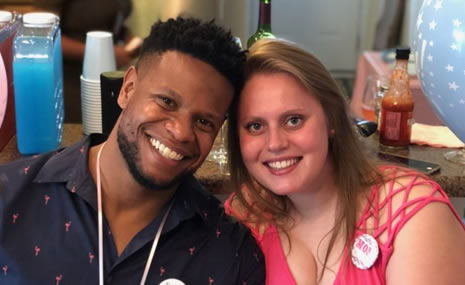 When "MissAbby13" and "RellyUnicorn" met on our site, they were vibing from the start. But this was actually Abby's maiden voyage on the sometimes turbulent seas of Internet dating. "Yes, it was my first experience with online dating," she tells us. "What inspired me? I don't know, I just knew what I wanted and thought your site could help me find it!"
Tyrell (username "Relly Unicorn") came to us with much more experience under his belt. "I had tried a few of the other [sites] before and HATED IT!" he exclaims. "There were no women of any class or substance on those other sites, so I decided to try yours to see if the quality of women improved. It did! I found my wife and we are a perfect match."
Your perfect partner could be online right now...
What are you looking for?
Unsurprisingly, Abby didn't bring a lot of exuberance to this endeavor. "Ummm, I was not hugely confident, honestly," she admits. "I was cautiously optimistic."
Again, Tyrell was on the opposite side of the spectrum. "I was extremely hopeful that I would find, at least, someone to talk to who could hold a decent conversation," he opines. "I certainly didn't know that I would find my future wife!"
After "four or five months, on and off" Abby's membership paid off when Tyrell contacted her. His profile had been posted for "one month, or less" at that point. "Yeah, I definitely hit her up," he laughs. "She had very nice pictures on her profile," he says to explain his decision to reach out to "MissAbby13" specifically. "I was very intrigued," reveals Tyrell. "Once I got a response from her and found out that not only was she gorgeous but a jock as well, I was hooked instantly!"
Here is Abby's recollection of how it went down. "Tyrell reached out to me first. He had the premium version, so he was able to direct message me. We connected over England, which is where I'm from, and went from there."
Asked what prompted her to respond to his initial greeting, Abby says it was "his profile picture. He looked very professional and was very good looking."
Before long these two were making plans to put their connection's potential to the test in person. "The vibes were right," recalls Abby. "I felt like I knew he was the one, based on how well we connected."
For Tyrell, it didn't take long to feel compelled to level up. "I HAD to meet her after we talked on the phone for hours and hours," he declares. "The connection was just so overwhelming that we made plans pretty quickly to meet up."
Abby describes their first moment together as, for her, "love at first sight." Tyrell says he remembers thinking, "'Yes! She's not a catfish!' No seriously, I was thrilled to see her up close and personal. She has a bangin' body!"
Abby was surprised at the ease of their rapport. "I felt like we knew each other for longer than just a week," she observes. For Tyrell the revelation was "how cool she was! Just laid back. The vibes were on fleek."
Here are more details about how it all went down. "I picked her up from work and we went straight to an Airbnb," explains Tyrell. "After a blissful night we spent the weekend visiting my brother in Wilmington, Delaware."
Apparently this was all they needed to know they'd found their match. "On our first date I realized that our relationship was special," Abby reveals. Tyrell nods. "I would have to agree with her on this one. It felt like we had known each other for years."
Not surprisingly, after this experience both singles report being positive there would be future chapters written in their love story. As is often the case, their dating profiles didn't paint the whole picture of their partner. "There was so much that wasn't in the profile that I discovered," Abby tells us. "He is selfless, kind, a leader, and a family man."
Tyrell singles out "her giving spirit, kindness, and her love of competition" as aspects of Abby's personality that he discovered during the dating process. Both say the other is "pretty similar" to what they thought was their romantic type, before meeting. "She is a little thicker than what I've gone for in the past. But that's NOT a bad thing!" Tyrell assures us.
With Abby hailing from jolly old England, geography presented some complications for the new couple. "Immigration status" was an obstacle for Abby. "I was about to leave America when we met because my visa was about to expire," she remembers. "So I was faced with the possibility of maybe having to leave if our relationship didn't work out. But it worked out!"
For Tyrell the main challenge was his "economic status." It's not uncommon for financial pressures to strain relationships, and in this case it was a past relationship that posed the problem. "I was divorced less than a year before we met," Tyrell says. "That divorce cleaned me out. I went from making over $100k annually to making $35,000. I really didn't have much to offer at the time, but [Abby] loved me anyway."
Knowing the couple is now married, of course we wanted to know how the proposal happened. "Well, funny you ask, because we did things in an unconventional way," Tyrell begins. "We got pregnant within the first month that we knew each other! So we moved rather quickly by today's standards. Don't get us wrong, we planned it, and we were overjoyed. But the proposal was really more like a decision that we made to get married and start our future together for the sake of the baby. It was the best decision, and it turned out great!"
To be sure, Abby has no regrets. "It has been refreshing to have a partner be so compatible with me," she marvels. "We truly have a cosmic connection."
"I'm a purpose-driven person, and having Abby and our son has given me a renewed purpose and is now the driving factor for everything I do," reveals Tyrell.
Here's what Abby wants the singletons to know. "Don't give up, your man/woman is out there," she urges everyone.
Tyrell has more to say. "Be as authentic as possible. Be a little vulnerable, but don't give up EVERYTHING right away. Make them work a little to peel back the onion… If you feel a connection is there, make time to see them. You could be meeting your future spouse!"
He would know.
4 responses to "The Vibes Were on Fleek"
Leave a reply
You must be logged in to post a comment.