New Love in London
Posted by Leticia, 23 Sep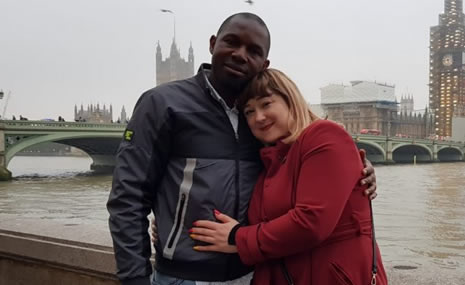 U.K. singles Mihaela and Kalu were wary about Internet personals, worrying they might encounter scammers and such. "I was very skeptical about online dating at first," admits Mihaela, "but a friend of mine found true love online and they are happily married now, so I decided to give it a try!"
"I have tried a few other websites but because of so many fake profiles, it was difficult until I found yours," Kalu tells us. "I've been on and off this site for a few years." Nonetheless, Kalu says he posted his profile with optimism in his heart. "I was confident," he declares.
Find your soulmate on TemptAsian










A few months after Mihaela's profile popped up on our site, it caught Kalu's attention. "Her uniqueness and beauty are irresistible," he laughs. "I reached out to her first by email. We chatted for a while on the platform before moving it to WhatsApp, text, and calls."
Mihaela read his email, took a look at his profile, and liked what she saw. "He's tall, dark, handsome, genuine," she notes. "And the fact that he mentioned that he has a son he cherished made me realize that he's a real family guy."
Mihaela says that "his confidence and approach" convinced her that she and Kalu should field-test this fledgling connection in the real world. In addition to her having "a sexy voice," it was "her uniqueness and readiness to start a committed relationship" that told Kalu they needed to meet, he says. "I drove to London to meet her. She's worth every mile!"
Mihaela adds, "We met in London, went for dinner. It was a remarkable date." For her it was "love at first sight," and Kalu remembers thinking that she was "more beautiful in real life than in her pictures."
The couple confides that things got intimate on Date No. 1, something that surprised both of them. "I had always refused," Mihaela tells us, but something was different about this fellow and what they shared. As Kalu puts it, "I fell in love, like a teenager."
Both people involved were certain they'd see each other again, and they did. However, for whatever reason, this love train nearly derailed right after their romantic encounter. "We fell out shortly after our meeting in London," admits Mihaela. Kalu even turned his attention back to our site. "I went back on the site thinking it was over, but we made up," he says, relieved. "We went for a short make-up break in Jersey Island and I proposed to her!"
What?! It's true! These two are getting married. "I can't wait to say 'I DO!'" exclaims Mihaela. "I'm looking forward to the big day," says Kalu. Mihaela says she appreciates that Kalu is "very sincere" and he calls the match "very close" to ideal. Mihaela will go one step farther. "For me, it was a perfect match!"
Their new relationship has worked wonders for their state of mind, says the couple. "I just couldn't be happier," Mihaela gushes. Kalu observes, "I feel very confident now, especially when family and friends visit us."
Here are the duo's tips for folks who haven't found love online yet. "Don't settle for less," says Mihaela. "Be patient, and preserve your opportunities."
"Watch out for fake profiles," warns Kalu. "But real love CAN be found online!"
It certainly can.
15 responses to "New Love in London"
Leave a reply
You must be logged in to post a comment.